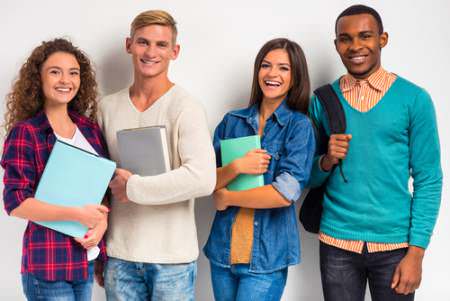 Palm Springs High School has been educating students in Palm Springs for 79 years, since 1938. What started with modest beginnings has evolved into a thriving school with thousands of students. The school's mission statement is to "prepare students to assume responsible adult roles as citizens, family members, workers, and lifelong learners by providing for their intellectual and developmental needs." The school's focus is on creating career pathways in health careers, welding, business, and the arts. Students aren't just attending school; they're preparing for work-life after graduation.
The school's career center is in place to help students bridge the gap between high school and college or work-life. At the career center, students can get help applying for scholarships, student aid, and financial assistance, SAT and ACT prep help, college applications, information about branches of the military, and more.
There are approximately 2,200 students who are proud to attend Palm Springs High School, Home of the Indians, in Palm Springs, California. Additionally, there are around 75 teachers employed by the school, which sits on a 52-acre site. Palm Springs High School is part of the Palm Springs Unified School District. There are approximately 25 students per teacher in the classrooms at Palm Springs High School.
Palm Springs High School has a fierce competitive streak, brought forth via its array of athletic activities and sports. Spring, autumn, and winter sports include football, cross country, water polo, basketball, wrestling, soccer, baseball, golf, track, tennis, swimming, and volleyball broken apart into boys and girls teams, divided by season. The school has also developed the Palm Springs High School Sports Medicine Team, a team of students studying sports medicine who work with athletes in the prevention and treatment of sports-related injuries.
Back in the 1950s, the Palm Springs High School Auditorium paved the way for some individuals to travel from student to superstar but has since lost its charm through the ages. Now, upon completion of a $17 million renovation, the state-of-the-art theater that seats over 800 attendees. Students now have the opportunity to celebrate the arts in a brand new auditorium rebranded as the Richards Center for the Performing Arts.
Palm Springs High School counseling team provides guidance and counseling for every student regarding academics, personal development, and career choices. Furthermore, counselors conduct presentations, workshops, lessons, and more. The school also enforces an anti-bullying philosophy and participates in anonymous reporting of bullying via a secure website.
Palm Springs High School has been converting students into productive members of society for nearly 80 years, which it does with a strong emphasis on work-readiness, college preparedness, and career goals and planning. Teachers work closely with students in a safe, positive learning environment to foster forward thinking. The school has stood the test of time, gaining support from residents and area businesses who understand that today's students are tomorrow's leaders.
Palm Springs High School is located at 2401 E. Baristo Road in Palm Springs, California 92262. For more information, call 760-778-0400.
Your real estate agent is the best source of information about the local community and real estate topics. Give Shane Zuspan a call today at 760-422-3042 to learn more about local areas, discuss selling a house, or tour available homes for sale.